Creating & Managing Wealth
5201 N O'Connor Blvd.
Suite 200
Irving, Texas 75039
  (972) 831-8866


  (972) 831-8877
Christina Winters
President/CEO

Comprehensive, integrated life planning. Focusing completely on what's best for the client. My goal is to educate my clients so they make the most informed decisions at every stage of their career- during the accumulation period, the transition into retirement, and the most critical time, when managing distributions in retirement.
Superintendents, C-suite executives, women in transition through death, divorce or separating from a corporation, presidents of colleges and their cabinet, small business owners
2018 NTSA Elite Advisor
The NTSA Elite Advisor Award is an annual member recognition program that has been established to honor advisors who have helped shape best practices in serving clients in the 403(b) and/or 457 retirement industry, as well as to acknowledge their specific accomplishments and/or contributions. The NTSA Elite Advisor Award recognizes the very best advisor members of NTSA who have done the most to help individual plan participants accumulate assets for retirement. The focus is on advisor best practices for advocacy, leadership, practice management and legacy within the 403(b) and/or 457 retirement industry, directly impacting the ability for Americans to build a successful retirement, especially through retirement plans. In addition, the NTSA Elite Advisor Award proclaims to the industry, to the federal, state and local legislatures, and to the public that the NTSA and its advisors — as trained, experienced professionals — are critical to helping Americans in the non-profit sector achieve individual retirement security.
2016 US Chamber of Commerce Small Business Blue Ribbon Regional Award Winner – One of the top 7 Small Businesses in the United States. Selected based on 4 criteria: strategic planning, employee development, customer service and community involvement.
2011 Outstanding Volunteer of the Year, Greater Irving-Las Colinas Chamber of Commerce
2013 Sister Cities Clay Dobson International, Greater Irving-Las Colinas Chamber of Commerce
Awards are not indicative of future performance Working with an award winner is no guarantee of future financial success. Individuals should conduct their own evaluation.
Licensing and Professional Registrations
FINRA Series 7: General Securities Representative
FINRA Series 24: General Securities Principal
FINRA 63: Uniform Securities Agent State Law Exam
FINRA 65: Investment Advisors Law Exam
FINRA Series 6: Investment Company Products/Variable Contracts Representative
AIF®: Accredited Investment Fiduciary
Completed Executive CFP Program Studies through College of Financial Planning 1995
Securities Licensed in Alabama, Arkansas, Arizona, California, Colorado, Connecticut, Florida, Georgia, Illinois, Indiana, Louisiana, Maryland, Michigan, Minnesota, Mississippi, Missouri, Nebraska, New Jersey, New York, North Carolina, Ohio, Oklahoma, Pennsylvania, South Carolina, Tennessee, Texas, Virginia, Washington, Wisconsin Wyoming
Irving Las Colinas Chamber Economic Development (2012 – Present)
Irving Schools Foundation (2008 – Present)
Texas Association of Business-Finance Committee (2015-Present)
Dallas Women's Museum, Founding Benefactor
Irving Las Colinas Chamber of Commerce (2011 – Present)
Dallas Straight Talk (1993 – 1997)
Cancer Treatment Centers of America (2011 – 2016)
Irving International Women's Consortium, Founder (2005 – 2016)
Leadership Texas, Class of 1996
North Texas Commission (2013 – 2016)
Senior Services Alliance (2012 – 2016)
Irving Fire Foundation (2006 – 2011)
Salvation Army (1993 – Present)
Dallas Women's Foundation (2002 – 2012)
Irving Sister Cities (2012 – 2015)
Las Colinas Women's Association (2002 – 2016)
French-American Chamber of Commerce (2013 – 2016)
Southern Methodist University Library (1999 – 2003)
Carrollton/Farmers Branch Education Foundation (2001 – 2007)
Irving Symphony Orchestra (2008 – 2009)
DFW Humane Society (2002 – Present)
Dallas Independent School District (1993 – 2006)
IGNiTE Texas (2013 – Present)
Irving Independent School District (1993 – Present)
Irving Firefighter's Ball (2006 – 2012)
Irving Police Award Banquet (2007 – Present)
Select a tab to see related photos.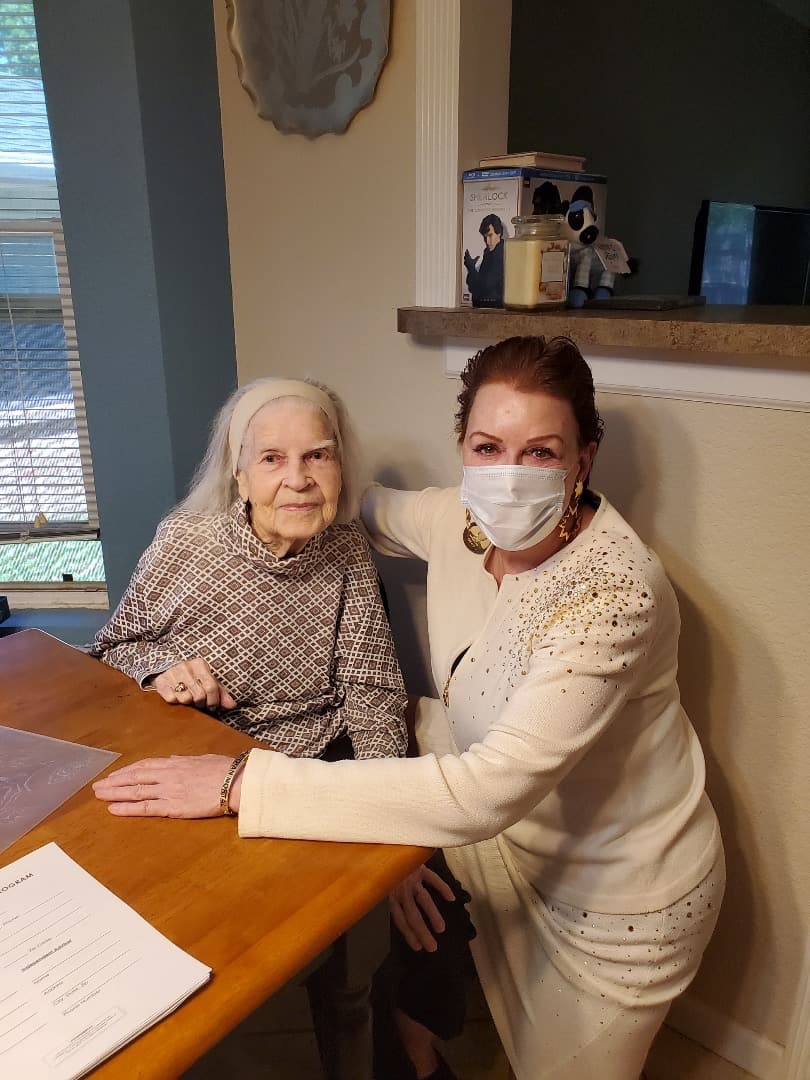 A client asked that I come to his 98 year old mother to help her develop a trust! I'm in!
Advisory services offered through Lincoln Investment or Capital Analysts, Registered Investment Advisers. Securities offered through Lincoln Investment, Broker Dealer, Member FINRA/SIPC. www.finra.org, www.sipc.org, www.lincolninvestment.com Creating and Managing Wealth, LLC and the above companies are independent, and non-affiliated.
We make no representation as to the completeness or accuracy of information provided at any third-party site. Nor are we liable for any direct or indirect technical or system issues or consequences arising out of your access to or use of third-party sites. When you access one of these sites, you are leaving our website and assume total responsibility for your use of the sites you are visiting.
IMPORTANT INFORMATION: This site has been prepared solely for information purposes is not intended to be a solicitation, offer or sale of securities products or investment advisory services to anyone who resides outside of the United States. Capital Analysts and Lincoln Investment are registered as investment advisers with the U.S. Securities and Exchange Commission and Lincoln Investment is registered as a broker/dealer in all 50 states. Capital Analysts and Lincoln Investment and its Financial Representatives may only transact business in a particular state if first registered and only after complying with registration requirements. Tax, legal, or Social Security claiming advice is not offered through, nor supervised by Lincoln Investment or Capital Analysts.