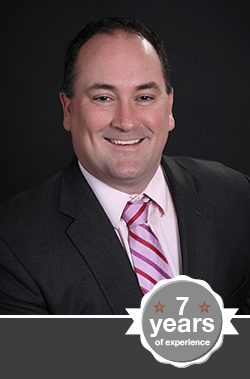 Creating and Managing Wealth, LLC
Irving Branch
5201 North O'Connor Blvd., Suite 200
Irving, Texas 75039
  (972) 831-8866


  (972) 831-8877
Shawn Crow

Financial Representative
Do right by my clients.
Understand my clients, and what their expectations are of me.
Partner with my clients to put together a financial strategy.
Evaluate types of accounts and investments that fit well with our financial strategy.
Periodically review investments as well as client's present situation.
Periodically review client's financial strategy with them.
Small Business Retirement Planning
Preparing for business owner liquidation events
Utilizing tax qualified retirement accounts for client benefit
Goals based planning
2017 Lincoln Investment President's Club The President's Club award recognizes those Lincoln Investment financial advisors who have achieved the firm's first level of annual qualifying criteria based on overall production, new clients, advisory accounts and assets. Lincoln Investment honors them for their dedication to helping people retire well presenting them with this award.
Awards are not indicative of future performance Working with an award winner is no guarantee of future financial success. Individuals should conduct their own evaluation.
FINRA Series 7: General Securities Representative
FINRA Series 66: Investment Advisor Representative
Professional Associations
Financial Services Institute
SMU Cox School of Business Alumni Association
St. Monica's Catholic Church
St. Monica's Dad's Club
YMCA youth Sports
DISD Principal for a Day
Advisory services offered through Lincoln Investment or Capital Analysts, Registered Investment Advisers. Securities offered through Lincoln Investment, Broker Dealer, Member FINRA/SIPC. www.finra.org, www.sipc.org, www.lincolninvestment.com Creating and Managing Wealth, LLC and the above companies are independent, and non-affiliated.
We make no representation as to the completeness or accuracy of information provided at any third-party site. Nor are we liable for any direct or indirect technical or system issues or consequences arising out of your access to or use of third-party sites. When you access one of these sites, you are leaving our website and assume total responsibility for your use of the sites you are visiting.
IMPORTANT INFORMATION: This site has been prepared solely for information purposes is not intended to be a solicitation, offer or sale of securities products or investment advisory services to anyone who resides outside of the United States. Capital Analysts and Lincoln Investment are registered as investment advisers with the U.S. Securities and Exchange Commission and Lincoln Investment is registered as a broker/dealer in all 50 states. Capital Analysts and Lincoln Investment and its Financial Representatives may only transact business in a particular state if first registered and only after complying with registration requirements. Tax, legal, or Social Security claiming advice is not offered through, nor supervised by Lincoln Investment or Capital Analysts.